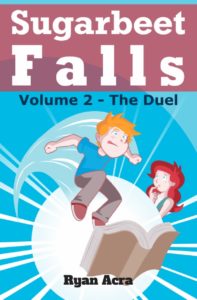 Sugarbeet Falls – Volume 2 – The Duel
I am so pumped.  After a long, long, looong process of working to get my book finished and published through our new publishing company (www.thegetitfactory.com), I'm finally back to writing for fun again.  Don't get me wrong, the process of finishing a book is a blast, but its more of a work blast than fun blast.
I'm excited to talk about my adventures with this second book, and I have some visits in the works already.  Students will get to use their creative powers whether they've heard me before or not.  We will still create superheroes, but in this book, Xander and his friends have to compete in some wild sports and games so we will add that wrinkle to the fun.
It will be a blast.  As always, if you're interested in having us come visit your class or school, don't hesitate to reach out.
See ya soon!